Showing results for "cable release":
1 - 1 of 1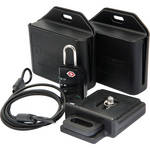 B&H # GAGGBASIC MFR # GG-BASIC
Bag Locks Cover Quick-Release Buckles
Body Lock Attaches to Tripod Socket
Secures with 3-Digit Combination Lock
36" Cable Can be Tethered to Fixed Point
Includes TSA Approved Combination Lock
Easy to Setup
Availability: Special Order
Ship Time: 7-14 business days This is a Special order item. Est. arrival at B&H is 7-14 business days (subject to availability). Your order will be charged at time of shipment.
PayPal Orders
PayPal orders will be charged when the order is placed. International Orders
For international orders, credit cards will be charged at time you place your order.