B&H Photo Apple MacBook Pro
: 1 - 1 of 1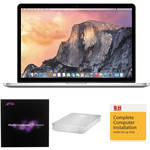 15.4" MacBook Pro with Retina Display
Avid Media Composer 8 Software
G-Tech 1TB G-Drive Thunderbolt HDD
B&H In-house Software & Memory Install
A Full Year of B&H Technical Support
Availability: Requires Custom Installation
Ship Time: 5-7 business days This item requires custom installation, Please allow ADDITIONAL 5-7 business days for delivery. This item is non-cancelable and non-returnable, You will be charged for this item when placing your order.
PayPal Orders
PayPal orders will be charged when the order is placed. International Orders
For international orders, credit cards will be charged at time you place your order.