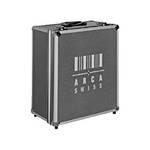 B&H # ARC69F MFR # 140004
Availability: Special Order
Ship Time: 6-8 weeks This is a Special order item. Est. arrival at B&H is 6-8 weeks (subject to availability). Your order will be charged at time of shipment. Item is non-cancelable and non-returnable.
PayPal Orders
PayPal orders will be charged when the order is placed. International Orders
For international orders, credit cards will be charged at time you place your order.