B&H Pulse Weekly News Roundup: June 8th, 2012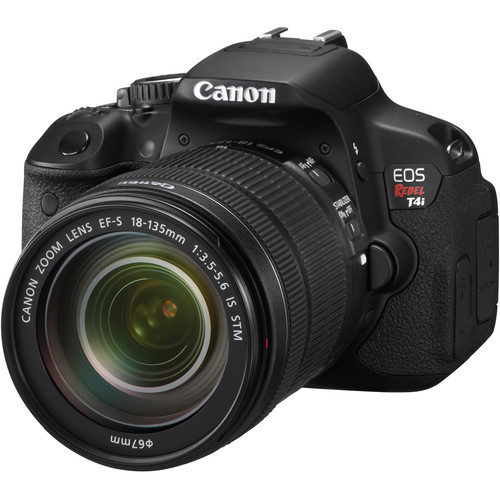 This week in the news: Sony announced a killer new premium point-and-shoot; lots of new computing products came out of Computex this week; Canon's new DSLR; and Quantum also came out with a new addition to their TTL wireless trigger lineup.
This is your B&H Photo Pulse News Roundup for June 8th, 2012.
The New Compact Powerhouse on the Block Comes from Sony
Looking for a compact camera with a large sensor and a fast aperture lens? Perhaps Sony has the answer for you, in the form of the new RX100.
Here's the skinny on this new tiny point-and-shoot:
- Large 1-inch-sized sensor (same size as the Nikon 1 series of cameras with interchangeable lenses) at 20MP. That translates into more bokeh at a given aperture, and better performance in lower-lit situations without a flash.
- Control ring around the lens
- Discrete pop-up flash
- f1.8 aperture lens at the widest focal length
- Optical and electronic image stabilization
That's just a bit about the new camera—which sounds like the new camera you may want to tout about at parties. You can read more about the new camera over at Pop Photo.
The New Canon Rebel: The T4i
Canon has refreshed its Rebel line of cameras with the T4i. The Rebels have forever been popular with consumers, students, and hobbyists, and the latest upgrades hold true to Canon's philosophy of modestly changing the camera with each iteration.
The new features include:
18.0MP APS-C CMOS Sensor
DIGIC 5 Image Processor
3.0" Vari-Angle Touch Screen LCD
ISO 100-12800, expandable to 25600
Full HD Movie Mode, with Continuous AF
5.0 FPS Continuous Shooting
9-Point All Cross-Type AF System
Multi Shot Noise Reduction
SD/SDHC/SDXC UHS-I Memory Card Support
Compatible with Canon EF and EF-S Lenses
The new camera was also released with a brand new 40mm f2.8 EF pancake lens.
You can read more about the lens and camera at B&H InDepth.
Quantum's New Wireless Controller for DSLR Cameras
Quantum is popular amongst wedding photographers, photojournalists, and location photographers. Their latest addition to their product lineup is the new CoPilot. It's available for both Canon and Nikon DSLRs.
The CoPilot goes for dials; much more similar to traditional triggers vs new ones with LCD-screen interfaces, like the PocketWizard Plus IIIs.
Another prominent feature of the trigger is the infrared autofocus assist light, similar to those on a speedlite (or speedlight) flash. When it is attached, it will help your camera focus much easier in the dark.
Here's a quick demonstration video of the new CoPilot in action.
Quantum CoPilot Instructional Video from Quantum Instruments on Vimeo.
You can read much more about the new controller over at Lighting Rumours.
Laptop and Computer News from Computex
Computex, a tradeshow showcasing computer hardware and peripherals, took place this week. Lucky for you, if you're in the market for a new computer. Some of the options that we saw this year may appeal to you. Almost everything presented seemed to have an emphasis on mobile technology in the form of tablets, tons of laptops, and more.
Here's a quick rundown for you:
- The Verge reported on the ClamBook, a device that adds a keyboard to your iPhone or Android Tablet. It features an aluminum shell, widescreen display, 3D Cinema Sound, and full keyboard (complete with dedicated Android keys). But it doesn't come to life until it's connected to your phone via an MHL cable, acting as a second screen to display all of your apps, games, and media.
- Mashable reports that Sony unveiled new Laptops, including their first Ultrabook. In fact, the VAIO T laptop (the Ultrabook) comes in at under 0.8 inches thick. It also sports an aluminum and magnesium chassis, and two USB 3.0 ports.
Talk about future-proofing, right?
- In perhaps one of the biggest innovations we've seen, ASUS has brought BlueStacks onto their new hardware to aid in using Android apps on Windows PCs. ASUS already makes the extremely-popular Transformer Prime tablet, and this now means that you'll be able to do things like play Angry Birds (the non-desktop version) and perhaps even run Instagram using your webcam.
Engadget has more on this.
The B&H Pulse Twitter Feed has lots more from this week at Computex.
But What About the Gamers?
There are lots of gamers out there, and gamers not only love their games. but are also smitten with their peripherals. For all of those people, E3, the largest gaming tradeshow in the industry, was also in full bloom.
- Sony's new Pulse Wireless Stero Headset Elite Edition solves a bunch of previous issues that its predecessor had. It now sports a 3.5mm headphone jack, and better bass feedback. It will work with lots of Sony devices, and even with non-proprietary hardware.
There's more, including a demo video, over at Engadget.
- The Verge went hands on with Mad Catz's new peripherals for the Wii U. Only prototypes were shown off at E3, but they seem very excited about such things like its iPad-like smart cover.
- Razer showed off another concept—a truly ambidextrous mouse in the form of the Taipan. The Taipan's 8200dpi 4G Dual Sensor system is a step up from last year's Mamba, which clocked in at 6400dpi. That means that the slightest flick of the wrist may send your mouse pointer well across the screen. But the controllable DPI is also of use to photographers wanting a better mouse experience.
The Verge has even more on this.
And that's your news for June 8th, 2012. Be sure to follow all the consumer electronic news you care about, on B&H Pulse.