Photographing Wildlife Eye to Eye
There is no better way to portray animals than at eye level. It's true for birds but even more true for large mammals. One of the best parts of my yearly trip to lead photo safaris to Alaska, where we photograph Alaskan Brown Bears (also called Grizzly Bears), is that we can photograph them from the ground, at eye level.
Shooting down at large predators such as bears, lions or leopards makes them seem small and not very majestic, so obtaining the eye-to-eye perspective is worth the extra effort. Plus, it is a lot more fun.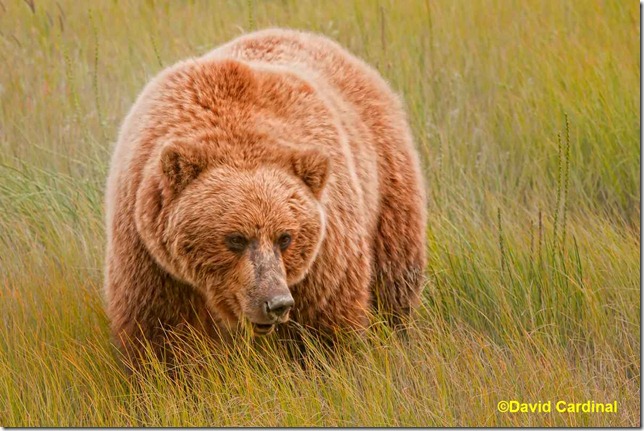 This large female brown bear was photographed from the ground, in a meadow. Her size comes through because I'm capturing the image from down low, using the easy-to-reposition legs of my Gitzo 3541LS tripod as I drop to my knees, with plenty of stability for my Nikon D300S and Nikon 200-400mm f/4 lens. A common mistake fledgling photographers make is trying to wrestle a long lens with nothing more than a ball head on your tripod. A gimballed head like the Wimberly Sidekick, or the even more effective Wimberly WH-200, is really essential to horse a large lens around quickly enough to capture all the poses and action provided by wild mammals.
No teleconverter was needed for this shot, as the very cooperative bear was plenty close. Staying low not only helped me keep the bear's eyes at my level, but made it easier to get detail in the eye to create a compelling portrait.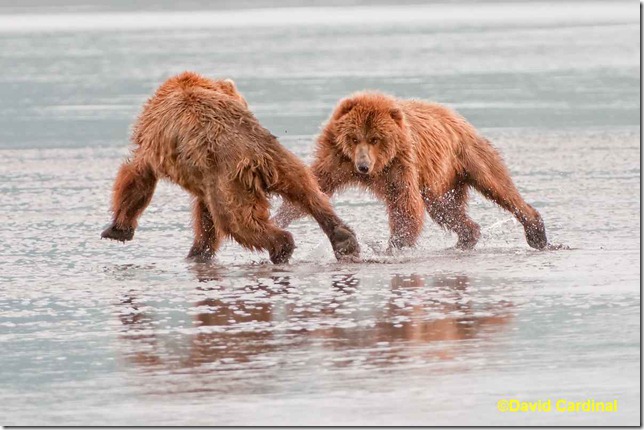 As any sports photographer knows, action sequences like these tussling bears in the water are also better viewed and photographed from eye level. Here too, a quick drop to my knees was called for, but this time I also wanted to stay high enough to keep the reflection of the bears in the frame, so some slight adjustment was needed to get just the right height.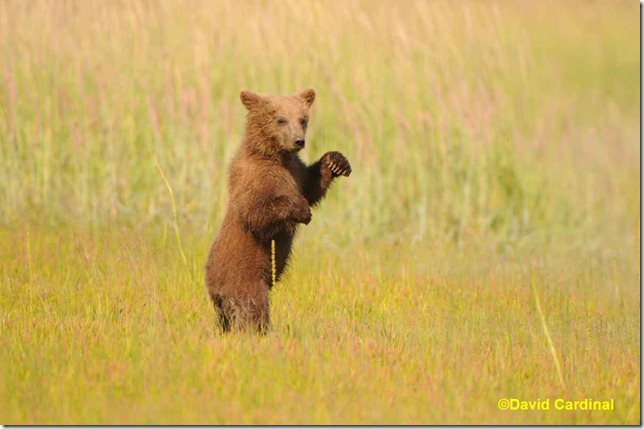 For larger bears, shooting at eye level helps convey their majesty, but it is also important for smaller bears. This spring cub is tiny compared to adult bears, so the only way to give it real personality is to shoot it at eye level.
While eye-to-eye photography is easiest from the ground, there are some great tools you can use to make it work from a vehicle. One is to lean or shoot as low as you can out of your car or truck. But since that isn't always possible, a more practical approach is to look for ways to photograph your subject higher up. Certain species like leopards which like to climb trees are perfect for this. Waiting in the right place for one to jump up on a log or branch is often worth the extra time and effort as that one image may be worth more to you (and to a publisher) than dozens of images shooting down on the same animal.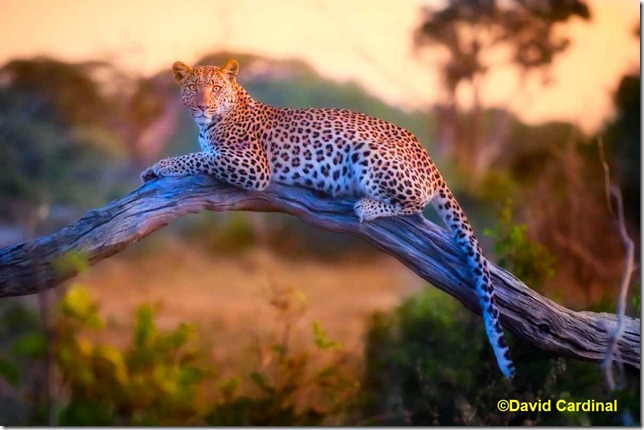 This famous leopard, Legadima, was stressed by a hyena that had stolen her kill. She was waiting for nightfall on a log, perhaps hopeful that she could get some of the meat back for her cubs. We knew that we'd have the perfect eye-to-eye perch once the sun went down low enough, and we could get a good image without too much backlight, so it was an easy decision to wait. This image is much more powerful than the ones we'd captured of her earlier in the day, slinking along the ground alongside our vehicle, hunting.
If you're interested in getting eye to eye with Alaskan Brown Bears, I'd love to have you join me as I return for my twelfth year leading Alaska Brown Bear and Puffin Photo Safaris, or if you'd prefer to have the great variety of animals we can see from a safari vehicle in Botswana and elsewhere in Southern Africa, we've still got a few openings for our Deluxe Photo Safari to Southern Africa that we're offering along with Journeys Unforgettable and Wilderness Safaris in May, 2011.
 For more from David Cardinal Visit  www.nikondigital.org & on Facebook at www.facebook.com/CardinalPhoto