The Professional's Source Since 1973
Expert pick: Stay Productive & Organized
13th Gen Intel i3 CPU, Full HD Display, and Wi-Fi 6 Connectivity Help You Take On Everyday Tasks
13th Gen Intel Core i3-1315U Processor
8GB LPDDR5 RAM | 256GB M.2 SSD
15.6" 1920 x 1080 IPS Display
Integrated Intel UHD Graphics
Clear Communications
The 15.6" FHD display, built-in webcam, and other essential features help you stay connected with friends, co-workers, and clients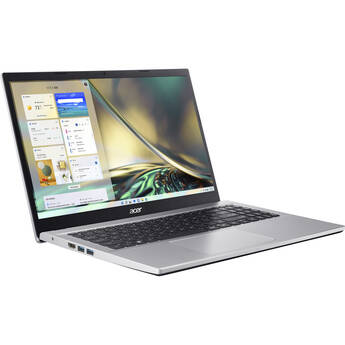 B&H # ACA3155933XY MFR # A315-59-33XY
Key Features
12th Gen Intel Core i3 Processor
8GB of DDR4 RAM | 256GB NVMe SSD
15.6" 1920 x 1080 LCD Display
Integrated Intel UHD Graphics
Learning About Basic Laptops
The best basic laptop is one that's fast enough for everyday computing tasks such as web browsing and word processing. Such laptops are ideal for students and offices that don't run graphics-intensive software. Basic notebooks can also serve as secondary computers and complement heavier and more powerful mobile workstations.
What Are Basic Laptops?
A basic laptop is a budget notebook with a low-end but capable processor, and just enough memory to smoothly run its operating system. Such laptop computers fall into manufacturers' entry-level and mid-range lineups. Models with screen sizes between 10 and 12 inches are suitable for kids and grade-school students. College students and professionals should opt for 13 to 15-inch units. These have larger screens, which make multitasking with productivity apps easier.
Types of Basic Laptops
These come in clamshell and 2-in-1 styles. Clamshell is the traditional laptop form factor. Its screen opens up to a maximum angle between 90 and 180 degrees. Consider a 2-in-1 laptop if you're looking for a mobile computer that doubles as a tablet. These notebook laptops are available in convertible and detachable styles. A convertible laptop has a 360-degree hinge and a screen that folds down flat against its keyboard when transforming into a tablet. A detachable model has a display that separates from its keyboard.
What Operating System Do Basic Laptops Have?
Most laptops in this category are Windows PCs. Windows is the most popular desktop operating system, and has a vast library of productivity and entertainment apps. However, a growing number of basic laptops for sale come with Chrome OS. Also referred to as Chromebooks, these computers run a lightweight, cloud-based operating system that doesn't require powerful hardware. Chrome OS handles essential features such as antivirus protection, and it updates automatically in the background. This advantage makes Chromebooks a low-maintenance laptop, which is ideal for schools, small businesses and fun.
Features to Consider When Shopping for Budget Laptops
Key hardware features to consider include screen size and resolution, as well as CPU and RAM. Most laptops in this category have HD screens with high resolutions. Displays with higher resolutions are sharper and more suitable for watching movies. The type of display panel used is also important. IPS screens are brighter and display more vivid colors than TN panels. To minimize screen glare, look for a small laptop with a matte display rather than a glossy one.
Processor options for budget machines range from basic Intel Atom and Celeron CPUs to chips in the Core series. For quick performance, opt for a Core series CPU if choosing an Intel laptop, or a Ryzen chip when considering a device with an AMD processor. Generally, more RAM translates to faster performance.
Consider design, operating system, and hardware specs when shopping for the best basic laptop. Browse the wide selection of basic laptops B&H Photo and Video to find the right model for you.