The Professional's Source Since 1973
Expert pick: Create & Collaborate with Ease
RTX 4060 Graphics with 13th Gen Core I7 CPU & 16GB RAM Deliver Smooth Multitasking Performance.
2.4 GHz Intel Core i7 14-Core (13th Gen)
16GB DDR4 | 512GB M.2 NVMe PCIe 4.0 SSD
16" 1920 x 1200 120 Hz Display
NVIDIA GeForce RTX 4060 (8GB GDDR6)
Crush Demanding Workloads
RTX A3000 Graphics with Intel Core i7 14-Core CPU & 32GB DDR5 RAM Accelerates Rendering Tasks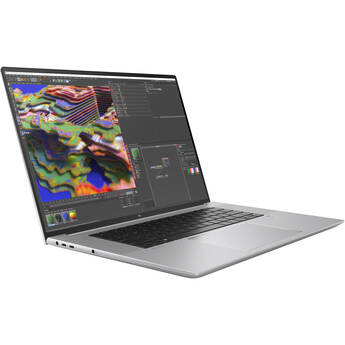 B&H # HE804M4UA MFR # 804M4UA#ABA
Key Features
Intel Core i7 14-Core (12th Gen)
32GB DDR5 RAM | 1TB M.2 PCIe SSD
16" 1920 x 1200 IPS Display
100% DCI-P3 | 16:10 Aspect Ratio
Limited supply at this price
Other Buying Options
Learning About Video Editing Laptops (Creative Laptops)
Video editing laptops have the power and portability you need to edit video on the go. For times when you need professional-level capacity but can't use your desktop, there are creative laptops with the horsepower to handle the graphics and techniques of advanced video editing. From 16GB RAM laptops to notebooks with 4GB graphics processing units, there's a consumer laptop, 2-in-1 laptop or notebook for you.
Video Editing Laptop Basics
Video editing involves processing massive amounts of material. For editing anything more than a quick vacation video or the like, you're going to need a relatively high-end machine. Video editing requires high-performance processors, high-capacity memory and storage, and a display with excellent color accuracy and high resolution. You'll also need to consider a powerful graphics card. Technology advances quickly, and today's minimum specifications may be outdated tomorrow. When putting together a rig for video editing, always check for current information on these components, and buy as close to all the recommendations as your budget allows.
Even with these requirements, you can still choose from familiar forms of computers. Many mobile workstations pack the extra power needed for editing. You can also find Microsoft laptops, HP laptops and models from other familiar brands that are well equipped for video editing.
What's the Best Operating System for Video Editing?
Apple laptops and desktops were once the industry standard for graphics work, and there are still many reasons to edit your videos on one, such as a MacBook Pro. Not only do Macs have the right hardware, but software with all the options you need is also readily available. However, operating system technology has changed such that laptops and notebooks with Windows and even Chromebooks now have the necessary hardware and graphics capabilities. Other than for compatibility with your other equipment, you're not restricted to any one operating system. This opens up not only a range of features but a range of software as well.
Creative Laptops for Streaming
Producing video isn't all about feature-length movies and high-definition graphics. You may want to broadcast your video gameplay via a platform that lets you interact with your audience in real time. Or maybe you want to spice up your footage with transitions and multiple camera angles before making it available on a video-sharing site. Video editing laptops have the audio and video capabilities you need to stream your creations to your followers.
What used to be the realm of the desktop now has room for the laptop in all its iterations. Whether you want to title a graduation video with a simple Chromebook or you have to use graphics-intensive software to make your own indie feature, find the computer you need at B&H Photo and Video.